Along with a confirmed release date, the Resident Evil title for the 3DS has new box art.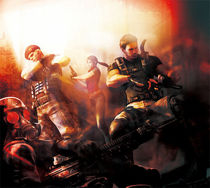 Famitsu has revealed the box art for Capcom's Resident Evil: The Mercenaries 3D.
Along with the announcement of a June 2 release date for Japan, Famitsu gives its readers a look at the game's boxart. It features Chris Redfield, Claire Redfield, and Hunk.