Japan will get to play Capcom's next 3DS game this summer.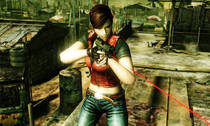 Resident Evil: The Mercenaries 3D is coming to Japan on June 2, according to Famitsu.
The title will contain all the Mercenaries maps from Resident Evil 4 and 5, and also feature a local and online co-op mode called Duo Mode. It has been confirmed each of the characters have different abilities and attributes. Two were shown in this issue. Albert Wesker has high powered weapons like magnums and shotguns, while Jill uses machine guns and shotguns, and also knives/kicks for close combat. Jill is the more balanced of the two, while Wesker power-focused.
The game will be priced at ¥4,800. It's set for summer 2011 in other regions.