These platforms join the handheld download service. Updated.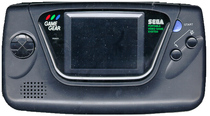 During Iwata's keynote, it was announced that Game Gear and TurboGrafx-16 (through the TurboExpress handheld, which played the same games) would be joining Game Boy and Game Boy Color games on the 3DS Virtual Console when the service launches in late May.
No information is available yet for what games will be released. So far only Super Mario Bros. and The Legend of Zelda: Link's Awakening have been confirmed for the Virtual Console portion of the eShop. Virtual Console will be accompanied by 3D Classics, 3D versions of classic console games.
UPDATE: Five classic Game Gear releases from Sega are planned for the Nintendo eShop launch.