Nintendo characters are printed on each of the remaining cards.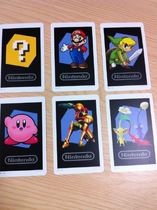 A photo of all six AR (augmented reality) cards included with the Nintendo 3DS reveals that the five cards, accompanying the previously revealed question mark block, feature Nintendo characters.
Rather than the yellow background of the question mark block, the background squares are blue. Mario, Link, Kirby, Samus, and Pikmin appear on the cards. In a post on NeoGAF, Alex Donaldson reported that the cards will show the characters perched on the card as virtual statues when activated in one of the six included AR modes, called "Star Viewer." Buttons on the 3DS change the statues' poses, and photos including the characters can be taken. Similar functionality exists using the question block card as a base to show Miis and Nintendogs in virtual 3D.
The series of unboxing photos for the handheld, including this AR card picture were posted on Twitter by UK retailer GAME. The photos have since been taken down.