The popular mobile game is headed to the third dimension.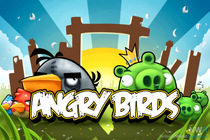 Rovio Mobile has confirmed via their Twitter account that they will be bringing Angry Birds to Nintendo 3DS via the eShop. When asked which versions of the game would be making their way to the handheld, they replied "we would bring all 3 current Angry Birds games over..." referring to Angry Birds, Angry Birds Seasons, and Angry Birds Rio.
Angry Birds has become one of the most popular games on mobile platforms such as iPhone and Android, and was confirmed for WiiWare last year.