Impressions from Tokyo reveal new changes to the 3DS remake of one of the best games of all-time.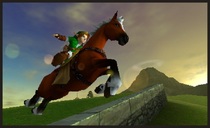 Even though The Legend of Zelda: Ocarina of Time 3D looks to have missed the launch date of the Nintendo 3DS, that hasn't stopped Nintendo from demoing at the game at Nintendo World, where many new details were unveiled.
At the bottom of the screen is a camera tap icon which can be used to switch the view mode. By clicking this button, players can physically move their 3DS handhelds to look around. If they want to see what is behind them in the game, they just simply turn their 3DS around.
Players use the circle pad on the 3DS to look around and the touch screen to select items. Players use the "view mode," which can also be accessed by tapping the camera tap icon, to aim projectile weapons.
The demo at Nintendo World featured three save files: one running around the starting village, another in the first dungeon, and one that has not yet been confirmed.
The Legend of Zelda: Ocarina of Time 3D is due out this spring in Japan.