Game will launch on XBLA next summer, with the WiiWare version following in the fall.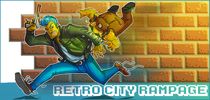 Originally expected to release near the end of this year, Retro City Rampage has been delayed on WiiWare until fall 2011. The Retro City Rampage developers announced that the game is also coming to Xbox LIVE Arcade first, in summer 2011, and will include additional HD and Xbox LIVE content.
Unlike technical problems that ultimately prevented Super Meat Boy from launching on WiiWare, it appears that Retro City Rampage will still make it to the service despite the challenges involved in being an independent developer. Brian Provinciano, founder of Vblank Entertainment, sent us the following message:
"It's very crushing to see the reaction of the Wii fans towards the delay. I can't get into details but have done absolutely everything possible to ensure the multi-platform release impacted Wii fans as minimally as possible. Us smaller developers don't have the same opportunities as the large publishers, specifically in regards to simultaneous cross platform releases. There was no payoff, no money exchanged for any sort of exclusivity, Retro City Rampage is still 100% self-funded. It's simply the result of a downside of being the little guy.

"The additional content for the Xbox LIVE Arcade version of RCR which is not included in the Wii release is ENTIRELY content which is only possible on Xbox. It's only that which specifically uses certain functionality that the Wii does not have. The Wii version will still contain the entire game and everything that is not HD or Xbox LIVE related."
Retro City Rampage was always destined to be a multi-platform release, and timed exclusives are not uncommon in the downloadable space. This is especially frequent on Microsoft's service, on which the company pursues a policy aimed at fostering such exclusives. Recently, Hydrophobia had a two-month exclusivity on Microsoft's service. Even games with large publishers, such as Lara Croft and the Guardian of the Light (Eidos), and Teenage Mutant Ninja Turtles: Turtles in Time Re-Shelled (Konami) have had similar exclusivity deals. According to Amanita Design, Microsoft barred their critically acclaimed PC title, Machinarium, from XBLA after failing to work out some form of exclusivity agreement.
Unlike on Nintendo's Shop Channels, Microsoft prohibits self-publishing on XBLA. This can put independent developers in a difficult position as Microsoft dictates publishing terms. For example, Team Meat notes that they are prohibited from releasing Super Meat Boy on PlayStation Network due to their publishing agreement with Microsoft, and Twisted Pixel revealed similar limits. According to comments by Frozen Codebase, Microsoft has suggested that independent developers find an alternative publisher in order to get onto the service, but such action is fraught with its own difficulties, including reduced share in revenue.
Provinciano has said that he put all of his retirement savings into the effort. He explains that "in order to continue making these games and not have to start flipping burgers after Retro City Rampage is done, it needed to be multi-platform."