Toys "R" Us will feature a limited edition bundle.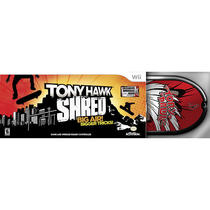 Tony Hawk: Shred, the sequel to last year's foray into peripheral-based skateboarding games, is coming out on October 26.

The game, which adds snowboarding to the mix, is focused on over-the-top gameplay and aims to get "kids off the couch and into the action."

There will be training videos available to help players out as they try to perform dozens of tricks, including Tony Hawk's signature move, the 900.

In addition to all this, Toys "R" Us will have a special bundle that comes with a board controller featuring Tony Hawk's Birdhouse graphics.

Tony Hawk: Shred is listed as $99.99 at most retailers. The game will also be available in game-only form for $59.99.