Garden simulation launch title announced at TGS.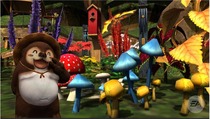 As part of their Tokyo Game Show presentation, EA announced a gardening simulation coming to Nintendo 3DS as a launch title for the system.

My Garden allows players to create customised gardens by choosing from hundreds of varieties of flowers and plants, and landscaping objects. With the help of the friendly Tanuki, guiding the player through missions to remodel different environments, as the garden progresses more types of wildlife will be attracted to the plants and features.

The in-game camera is free-roaming and taking photos of the creations will unlock rare flowers. The 3DS microphone can be used to call more birds to the garden, while a shake of the 3DS console will cause them to scatter and leave behind game coins that can be used to unlock more tools and plants.
"With My Garden, our aim was simple: to make something beautiful that comes to life on the Nintendo 3DS like no other platform," said Rod Humble, Executive Vice President of the EA Play Label. "We hope to offer a game that's so immersive that it truly brings the delight of owning a garden to life through a visually stunning 3D experience."

The game is being developed by EA Salt Lake. Images from the game have been posted on EA's My Garden page as well as our gallery below.