Find out what went down at Nintendo's E3 press conference with our summary.
Nintendo once again held its E3 press conference at the Kodak Theater in Hollywood, the site of its 2006 press event. Nintendo highlighted its continued success with Nintendo DS and Wii, and showcased a handful of first and third party games. The overall emphasis was on casual gamers, with very little for traditional video game enthusiasts.
Cammie Dunaway, Nintendo executive vice president of sales & marketing, kicked the show off talking about how much her kids love the fact that she works for Nintendo. This transitioned into a discussion of other ways she has tried to be cool, such as attempting to go snowboarding, breaking her wrist in the process. This led to a demonstration of Ubisoft's Shaun White Snowboarding, with Shaun White himself demoing the special Wii Balance Board controls. It was unclear from the on-stage demo how tricks were executed, but you can look forward to NWR's impressions after we've had a chance to try it out.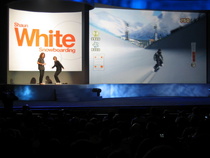 width="210" height="158" alt="" />
Satoru Iwata took the stage to discuss the status of Nintendo's product line, highlighting its continued growth and success. Slides highlighted that according to Nintendo data, Wii hardware is selling faster than that of the PlayStation 2, and Wii software shows a similar trend. He also discussed the continued success of the Nintendo DS and its "evergreen" titles, such as New Super Mario Bros. and the Brain Age games, and that DS units is selling better than ever—especially to females. Iwata insists that Wii and DS owners must continue to be engaged, or else they will lose interest. He then promised that the Zelda and Mario teams are working on new Wii titles, though he made no direct mention if those teams were actually making new Zelda and Mario games.
Nintendo went on to feature Animal Crossing: City Folk for Wii with a video showing gameplay footage and series director Katsuya Eguchi explaining the features of the new title. Most notably, Animal Crossing will support a new microphone peripheral called the WiiSpeak, a community microphone that will pick up the voices of anyone sitting around the TV. Players can visit each others' towns (after trading Friend Codes) and hang out, trade items, engage in activities, and more. The footage showed a fishing contest with friends talking online. In addition, players can send messages from the game to the Wii Message Board, to an e-mail addresses, or even directly to mobile phones. This entry in the series also introduces a city, where players can participate in auctions, interact with animals, and perform other Animal Crossing mainstay activities.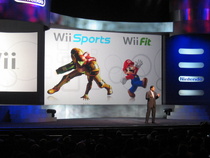 NOA President Reggie Fils-Aime took over to further discuss business trends, boasting about successful marketing campaigns and joking about how Wii and DS units are competing for weekly sales figures. Reggie showed some quick reels of featured third party titles Star Wars: The Clone Wars, Rayman Raving Rabbids: TV Party, and Call of Duty: World at War, titles that would be "coming soon" to the Wii.
Next, Nintendo touched on the success of Guitar Hero: World Tour, then announced a second DS Guitar Hero entry, Guitar Hero: On Tour Decades. Karthik Bala from Vicarious Visions announced some details via recorded footage. Most interestingly, players can share songs between the two Guitar Hero entries during multiplayer. That is, if someone with On Tour plays with someone who owns On Tour Decades, the tracks from both games will be available. This was followed by footage of Spore for the DS, titled Spore Creatures. The DS entry is distinct from the version for other platforms, focusing on creature generation and interaction.
The only Nintendo-published DS title announced was Pokemon Ranger: Shadow of Almin, with very few details given. However, Nintendo revealed that Grand Theft Auto will come to DS with a unique entry called Grand Theft Auto: Chinatown Wars. The new GTA game for the DS would be created specifically for the platform with a new engine and special features. Nintendo also hinted at future travel companion DS functions they are experimenting with, such as checking for flight status at the airport and their current Safeco Field baseball stats service in Seattle. Cooking Navi, retitled to Cooking Guide: Can't Decide What to Eat?, is also scheduled for a North American release.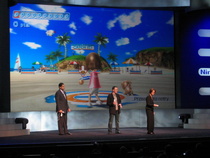 Near the end of the presentation, Nintendo touched on its newly announced Wii Remote peripheral, the Wii MotionPlus. The flagship title that will use this device is Wii Sports Resort, the sequel to Wii Sports. Nintendo said it would be available in "spring 2009." Without a 2008 release date, Wii Sports Resort seems early in development, but Nintendo demonstrated a few summer vacation activities that will be included, such as a frisbee toss with dog game reminiscent of Nintendogs, a jet-ski game, and sword dueling. The MotionPlus allows the system to detect subtle wrist twists and movements, and Nintendo referred to the Wii Remote + MotionPlus as "the new remote" on multiple occasions. The Wii Sports sequel will come with one MotionPlus, with additional units sold separately.
Finally, Shigeru Miyamoto showcased Wii Music. Designed so that anyone can play—and Nintendo means anyone—the game will feature gesture controls with the Wii Remote and Nunchuk, as well as the Wii Fit board as part of a drum kit in a separate game mode. The game is relatively free-form and appears to be similar to like EA's Boogie in that most of the activities are automatically done for your, but that's hard to determine without getting any hands-on play time. The game will include a variety of songs, including Nintendo songs (the Mario theme was demonstrated live). The game offers other modes of play, such as the conducting, and a drum trainer.
Overall, Nintendo announced a few key peripherals and established that it has no intent of giving up the casual market. However, with few new Nintendo DS or Wii game announcements from Nintendo itself, and almost no traditional games presence, the conference left video game enthusiasts fairly disappointed. Nintendo World Report will have more thoughts on the press conference and the games demonstrated shortly, so keep an eye out for game impressions, blogs, and podcast entries!