What happens when the only thing we can agree on is that there were a lot of good games last year?
While it would be wrong to say that Silent Hill: Shattered Memories is the first Silent Hill game on a Nintendo system, the other entry is a Japan-only "play novel" for the Game Boy Advance, and hardly something to concern ourselves with. A "re-imagining" of the original Silent Hill, Shattered Memories is a psychological journey through a town in which you don't want to stop for gas.

Andy Goergen: Silent Hill: Shattered Memories represents something that is increasingly unique on the Wii: a true triple-A third-party game in a familiar franchise that lives up to - and in my opinion surpasses - expectations. The game pushes the Wii to the edge of its capabilities, delivering beautiful high-resolution textures, a solid framerate, and top-of-the-line production values.
While there are some problems in the chase sequences, Silent Hill brings home the best horror experience that Nintendo's console has to offer. The story is crafted very well, and the way the plot unravels will have you playing the game multiple times just to pick up on all of the intricacies of the narrative. The decision to remove combat from the game seemed risky at first, but once you're in the game you won't miss it one bit. The end result is a thriller that is arguably the best Wii game of 2009, and one of the top games available on the console. If you're a Wii gamer, you must play Silent Hill: Shattered Memories.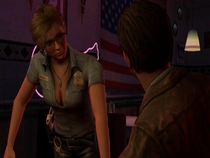 Why hello, officer. May I help you?
Jonathan Metts: Silent Hill: Shattered Memories is a noble and arguably successful attempt to revive and reform the survival horror genre. While perhaps not actually scary, it is genuinely disturbing, shocking, and always interesting.