Or how the only launch game Donald buys is from Konami.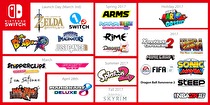 Nintendo of America has finally confirmed the launch lineup for the Switch for March 3, and compared to their last console launch, the quantities are slim. 1-2-Switch, Breath of the Wild, Super Bomberman R, Skylanders Imaginators and Just Dance 2017 is the entire Day One lineup. The Wii U, for comparison, launched with 33 games (disc + eShop) on November 18, 2012 – partially a factor of holiday, partially due to getting far more (initial) love from 3rd parties. Electronic Arts infamously had as much at the Wii U launch as Nintendo did.
My own personal Day One preorder list – which is still subject to being cancelled down the line – is Super Bomberman R, since I've had Breath of the Wild's Wii U version preordered since 2014 at what will be at least a $35 discount by March 3. And frankly, if you told me even during our pregame show that the only thing I would buy day 1 was from Konami, I probably would have laughed at you.
But I'm personally fine with that limited lineup.
Third parties who were largely burned by the Wii U were never going to come back in the same capacity. Those titles have always struggled on Nintendo consoles, especially at launch time when everyone focuses on the big Nintendo property. In the Switch's case, said big Nintendo property is the most hyped Zelda game in history given they devoted an entire E3 booth to it. The early attach rate for Breath of the Wild will likely be reminiscent of Mario Kart 8 or Twilight Princess, where it's the "default game" for the system and hopefully kicks it above the 2 million Switches sold Nintendo is planning for.
Nintendo is also trying to prevent software droughts for the Switch – consider that they dropped three games on the Wii U at launch then didn't release another game for a full five months after that (the original release of Lego City Undercover). Following launch, they have the drug trip known as Snipperclips in March and Mario Kart 8 Deluxe on April 28. ARMS is due in "Spring" which usually means May, and then Splatoon 2 in the summer. There's going to be significantly marketed Nintendo content on the Switch in almost every month of the year, assuming the target dates outlined by Nintendo of America are accurate (personally, if Xenoblade 2 makes 2017 in North America I'll be doing a jig).
The final reason I'm glad to keep my launch day spending down is the price of the system itself. In Canada, the Switch is launching for $400 + tax, Joy-Con sets are $100, and the Pro Controller is $90. I'm still not even sure that I'm going to be able to keep my preorder at that rate since I still have other bills to pay and might have to ship down to a major US city soon. So if I miss out on a game or two – well, they'll still be there when I get back and can secure one. I've hunted Amiibo, I can snag a Switch in April if I have to. Would I have preferred the original placeholder price of $249.99 US/$329.99 Canadian? In a heartbeat. But that's the hand we've been dealt.
A five game launch lineup is incredibly small for a modern system, even if one of the games is potentially a candidate for consensus Game of the Year. But in the Switch's case, it was inevitable and is necessary.