Nintendo said they'd listen to the conversation, and it seems to be a positive one.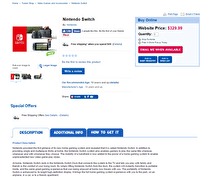 The Nintendo Switch could retail for $250 USD if some leaks and rumors that circulated this weekend are accurate.
First, a page on the Canadian branch of Toys"R"Us (since removed) was discovered showing the price of the system at $329.99 CAD (approximately $242.91 USD). Later, a report from Laura Kate Dale at Lets Play Videogames – who has been accurate with Switch rumors in the past – indicated that British high street retailer GAME was preparing to sell two varieties of Switch at £199.99 and £249.99 (approximately $249.50 and $311.83 USD). Both versions would include the system, dock, and Joy-Cons while the higher priced version would have more memory and possibly a pack-in game. Although GAME initially implied legal action would be pending, a different representative apologized to Dale and reiterated that the prices are not confirmed.
With that in mind, it seems like $250 and $300 USD (or converted equivalents) would be the price points for the Switch. That seems to be a fair deal.
Probably the most striking thing about the pricing is the contrast it provides with the Wii U. The Switch would be less expensive than its predecessor in the United States, and would be the same price in Canada. For that, you get a more powerful system that actually pulls off what the Wii U was trying to accomplish with off-TV play. Having a system launch at $250 worked for Nintendo with the Wii, to the point that it became the best selling home console in company history. The nVidia Shield came in two varieties – a tablet and a TV box – and both had a suggested retail price of $199.99, so combining the two for an extra $50 over one? It's the most logical way to proceed.
The other key for Nintendo if they want to get a foothold in the market is to undercut the competition – even if Nintendo won't admit that the Xbox One and PlayStation 4 are competition. If Nintendo is in for $250 at the entry level and $300 for the high-end, then they do have a momentary advantage over both consoles. The entry level Xbox One S (500GB hard drive) and PS4 Slim are both $299.99 ($379.99 CAD), while the PS4 Pro is $399.99 ($499.99 CAD) and a comparably equipped (1TB hard drive) Xbox One S is $349.99 ($449.99 CAD) with a game. Obviously, Sony and Microsoft could move to lower their prices in March if they see the Switch as a threat. But Nintendo may have an opportunity to make their own counter-move, which they've done before with the N64 dropping in price (it launched at $200 after being promoted at $250 for months) immediately before it launched.
We'll find out in January if these rumored price points are true, and what the rumored pack-in will be. For all we know, Nintendo may decide the reaction to the video is so good that they could go $300/$350. Be prepared for a high price, but hopefully the ones who have two weeks of pay saved up can turn that money into games and a Pro Controller instead.