Ultra Despair Girls makes Donald wonder just where a certain class of games can end up.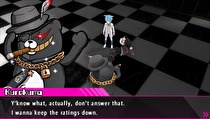 At the recent Eurogamer Expo (EGX), Sony President of Worldwide Studios Shuhei Yoshida was asked about the possibility of a successor handheld following the PlayStation Vita. Yoshida's response was simple, yet obvious: "The climate is not healthy right now". This statement isn't new to anyone who's followed the system's history since launch, but a combination of desire to focus on the PlayStation 4, mobile gaming taking a huge chunk of the handheld market and the Vita's hyper-proprietary storage led Sony to realistically end support for the ailing system after 2013.
There has been a good stream of content for the platform from 3rd parties, as is par for the course for any Sony platform. However, the Vita's success in Japan has led to a lot of it coming from the same 3rd parties still supporting the 3DS: Atlus, XSEED, Aksys and especially NIS America. NISA and Spike Chunsoft's Danganronpa visual novel/court games were both in my top 10 last year, and the second game was in my top 5. Recently, they released an interquel to the games called Danganronpa: Ultra Despair Girls, which swaps the court elements in the name of a 3rd person shooter. Unfortunately, one chapter of the game in particular is extremely disturbing.
SPOILERS AND STRONG LANGUAGE BELOW
In Ultra Despair Girls, you are attempting to save a city from destruction at the hands of a group of children who are trying to kill every adult in sight. Each of the children has been abused in some fashion by their parents: physically, emotionally and in one chapter, sexually. Late in the sexually abused character's chapter, there is an extended scene in which your (female) player-character is tied to a machine with multiple hands attempting to grope – or worse – her. In this scene, your objective is to knock the hands away enough so that an "Obedience" meter (represented by hearts at the bottom of the screen) doesn't max out.
Following the scene, the character makes an off-handed reference to being 18 – before, these antagonists were all attending elementary school – so that the scene would pass ESRB muster, presumably. As well, the game says "If the meter gets full, it's game over. So enjoy yourself, but, y'know, keep that in mind" in the tutorial, which I missed the first time because I just wanted to get it over with. The girl – again, an elementary school student who has been sexually abused – then proceeds to have a scene where her underwear is exposed, and flashes your character as a way of proving she is unarmed later.
END WARNINGS
The game has apparently decided to lampshade the stereotypical Vita game in Japan, as the system has three things that do consistent sales numbers there: Minecraft, big RPG franchises and their spinoffs, and games which often feature underage protagonists in explicit sexual situations. Since they appear on the platform, companies who want to have a steady supply of Vita content have to resort to localizing these games which ordinarily wouldn't leave Japan.
There is a backlash against these games – the prominent gaming messageboard NeoGAF bans discussion of several Vita titles (these titles are Criminal Girls and its sequel, Monster Monpiece and its followups Moero Chronicles and Moero Crystal, plus Dungeon Travellers 2). According to the moderation team, the trigger is "obvious sexual portrayal" of obviously underage characters, which differentiates them from the likes of Senran Kagura or Gal*Gun.
But with the Vita entering its legacy platform phase, where are these games going to go? It's entirely possible that if the Vita lasts another 10 years on indie ports, it will give the developers of these games in Japan the impetus to keep making them for the Vita. Given that one of my most anticipated games for the rest of this year is actually a PSP game, Vita games through the end of the decade would not be out of the question. If the Vita taps out early though, will this type of game come to Nintendo's next handheld?
Presumably, these games would go to PC, but there's clearly a market for these games on a portable system or they wouldn't keep coming out on the Vita. At this point, it appears the only dedicated handheld that will come out in the foreseeable future is Nintendo's handheld running NX (assuming NX is an OS). Nintendo has licensed games that are close to the line before; Conception II, which has a prominent place in my Vita's "I'm Going To Hell" fanservice game folder, also has a 3DS port. And some people have called recent Fire Emblem titles out for scantily clad young-looking female characters (who are actually a thousand years old). Etrian Odyssey games with the female Dancer are on my no-buy list.
Nintendo is in a bind here; they would be giving up some very loyal customers if they disallowed these exploitative games from appearing on their platforms, but it would damage their public image if the platform you play, say, Pokémon on also has Criminal Girls 3: Death Penalty. I think Nintendo will err on the side of being family friendly, but I don't know for sure. It'll be worth keeping an eye on as we move to the next handheld, if nothing else.
Thanks to the NeoGAF moderation team for clarification on their policies.