In addition to vehicles, Skylanders SuperChargers is bringing out crazier level ideas.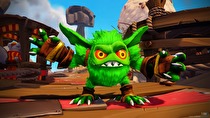 While the addition of vehicles might be the focus of Skylanders SuperChargers, the staple Diablo-style levels in the upcoming game are shaping up to be more dynamic than ever before. Each major area features a unique element, ranging from a level that takes place on a giant dragon that sways and moves as you travel to an area that focuses heavily on a gravity-swapping mechanic. In another area, your character becomes the size of a kaiju at one point, and at a different point, a chicken becomes giant-sized. A lot of these ideas were born out of internal game jams at developer Vicarious Visions. From there, they were iterated on and play-tested. According to team members there, if their testers (usually children) didn't remember the unique elements of a level, they'd rework it or scrap it. In some cases, those tests became instrumental in getting an idea to stick around.
Senior Level Designer Leo Zuniga, a longtime Vicarious Visions veteran who first came to the company when they were working on the Tony Hawk's Pro Skater games on the GBA, detailed the process for getting the aforementioned kaiju-style level into SuperChargers. It was an idea he fought for, and the final push he needed came from a co-op play-testing session from two children. The kids waltzed their way through the level, and the moment their heroes got supersized, they audibly gasped. Within seconds, the pair was smashing terrain and foes and having a blast. They even, for some reason, spontaneously burst into M.C. Hammer's 1990 smash hit "U Can't Touch This" despite the fact that the song predated their births by more than a decade. Whether that speaks to the longevity of Hammer Time or the power of SuperChargers' level concepts, the world may never know.
Skylanders SuperChargers comes out on September 20 on Wii U, Wii, and 3DS. Stay tuned for more coverage of Vicarious Visions' next game over the next few days.