Also, bonus speculation about the New 3DS launch in North America and Europe.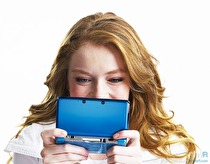 With the release of sales data from November 2014, we now know that the Wii U sold around 250,000 units during the month, up a little bit from 2013, and the Super Smash Bros. games and Pokémon Omega Ruby and Alpha Sapphire have combined for a little less than 4 million unit sales so far. Wii U software sales are up more than 90% overall, and heck, Amiibo are even doing well. Notice something missing from all that? No mention of 3DS system sales. Weird. How's that doing?
In short, not that well. The 3DS has been trending downward for the past year, and the absence of the system's November output from Nintendo's press release shows that 3DS system sales are either flat or down. Judging by the recent history, I'm more inclined to think it's the latter.
We all know that 3DS started slow but quickly turned around, moving 15 million total units during 2011, after a little more than nine months on the market. 2012 was similar as the system essentially doubled its total sales to just shy of 30 million units worldwide. 2013 added another 12 million units, a small decline from the previous year's sales that was short of Nintendo's internal expectations.
2014, however, was a different story altogether. In the first three months of 2014, the 3DS only sold around 600,000 units, less than half of the total system sales from the same period a year prior. April, May, and June were similar, as about 800,000 3DS systems were sold worldwide, down from the more than 1.3 million from a year earlier. The summer was similarly sad as 3DS system sales halved again. If the 3DS keeps up the pace of 2014, it'll sell about 4 million worldwide in the final three months of the year, which would pale in comparison to the 7.75 million from the year before. Here's a nice visual representation to highlight the decrease in worldwide sales of the 3DS from 2013 to 2014:
| | 2013 | 2014 |
| --- | --- | --- |
| Jan - March | About 1.25 million | About 600,000 (52% down) |
| Apr - June | About 1.4 million | About 800,000 (43% down) |
| July - Sept | About 2.5 million | About 1.3 million (48% down) |
| Oct - Dec | About 7.75 million | ??? |
However, it does seem the New 3DS is giving the system a small shot in the arm in Japan (and likely Australia). Will that be enough to reverse the downward trend when the New 3DS comes to America and Europe? In order for that to happen, compelling software that is exclusive or works far better on the New 3DS needs to come out. While there is likely a small sect of people who were holding out to buy a 3DS for a second analog stick, the New 3DS isn't meant to attract a whole new market. The purpose of the New 3DS is to sell the system again to owners of the 3DS or 3DS XL. That kind of upgrade has worked out for Nintendo in the past, with the DSi and 3DS XL both boosting sales of both console families.
We still haven't heard about the New 3DS in North American or Europe, but Nintendo's release schedule for early 2015 seem to hint at a March launch in America and a May launch in Europe, with Code Name S.T.E.A.M. and potentially The Legend of Zelda: Majora's Mask 3D being launched alongside the new system in each territory. Are those two games enough to push a wealth of 3DS owners to buy a new system? For Nintendo's sake, let's hope so.