We discuss one very classy man, who also happens to be NoE's president.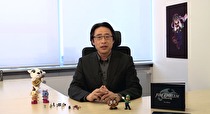 Exactly one year ago, Europe finally got its first dedicated Nintendo Direct presentation. Nintendo Direct was already a brilliant endeavor in Japan and America, where direct news feeds became available starting in October 2011. We were curious what approach Europe would take, as NoE had some time to study the other side of things. We got excited as the presentation drew closer, and learned Satoru Shibata would host it. Reactions were mixed, but most people simply didn't even know him.
To be completely fair, we didn't know much about our Nintendo president at that time. We knew he joined Nintendo's European division in August 2000, when Shigeru Ota left the president seat and named Shibata as his successor. Before that, he worked at NAL (Australia), where he was responsible for all the Nintendo products in the Oceania area. He appeared at events occasionally as well, with the Nintendo 3DS event in Amsterdam as the biggest example. I have seen him a few times in person, at the Zelda 25th Anniversary Concert in London and at Gamescom 2011, but haven't had the courage to go up and say hi.
That isn't because he would have been angry about it, but because he would be as shy as me. It was one of the main reasons why he initially didn't want to do the Nintendo Direct presentations, as he told us in the special Christmas Greetings of last December. He was afraid no one would recognize him and no one would understand him when he chatted in English. While some would make this exact case, I personally love the way he talks to us; it makes him come across as a genuine man. He tries because he wants to deliver game information to the listening fans. It doesn't matter if it is good or bad news, because the messenger is a kind one.
It also seems like Shibata takes serious responsibility in reading what the Internet says about his announcements; this was clear a number of times. He was seriously apologetic about the Fire Emblem and Animal Crossing situations, which was great to see during the stream of mostly good news. He knew we would be disappointed, and made it clear he was sorry. You can't ask more from one man, can you?
In the last year, he has learned about making a presentation interesting as well. At his first Direct, the way he presented things was a bit dry, and it took a while to get used to it. Things got better, though, and we heard more positive notes when he presented again in June. He was at the Nintendo of Europe warehouse and showed us the Nintendo 3DS XL. He even had a couple announcements on his own, which were completely exclusive to Europe at the time. He became more of a quoted person on social media; I even saw some mistake him for Satoru Iwata (Really?). At the end of the year, he started to get in the same hijinks as the company president. He performed a fashion show with New Style Boutique, sang like no other with SiNG Party, and even wore a Luigi hat in February. He became more confident in what he was doing, and if you look back at his first Direct now, the progression really shows.
It is actually becoming a hard decision of which I want more, Iwata or Shibata. While Satoru Iwata speaks clearly from his game developer background, Satoru Shibata has a completely different and fresh charm to him. He seems more open while talking, even though we still don't know anything major about him. But maybe, just maybe, that makes it all the more enjoyable. In any case, I would really love to shake his hand sometime in the next year. When you care about what you are doing, that is all I need to hear!