We really do need that GamePad support for VC titles.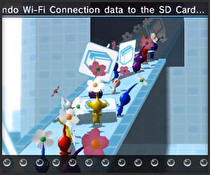 While it may seem like a lazy move to separate the Wii functionality on Wii U into an entirely separate UI on the console, to me it feels like the first true occurrence of two consoles in one. The shop is intact, and the system flawlessly plays all of the Wii games I have tried.
Furthermore, I understand that Virtual Console games are not playable on the GamePad right now. There is just so much stuff (and much more important stuff) to worry about at launch. Call me an apologist (and I certainly am), but to simply have most functionality available immediately is a breath of fresh air after the 3DS fiasco. But then I started the Wii-to-Wii U transfer.
When I was doing the somewhat mournful transfer process between my Wii and Wii U (which was flawless, despite the amount of homebrew on that thing) and saw that delicious animation of Pikmin carrying the data tiles, I saw a the message of Paper Mario transferring over and was immediately excited to replay it once all this launch business was out of the way. Then I realized something: I have never owned a Classic controller.
Because I have a GameCube controller and never played Monster Hunter, there was never a reason to own a Classic Controller. My Virtual Console stuff played fine, and Smash Bros. supported it.
But now, without any GameCube ports, I'm stuck. Because I have a Wii U Pro Controller now, there will never be any practical reason to use a Classic controller outside of Virtual Console games. And, because I might want to experience Paper Mario or Sin and Punishment some day in the future, I am stuck with either never playing them again or shelling out an uncool $20 for a nearly useless peripheral.
So, Nintendo, this is why GamePad access is such a crucial feature to have. It's not just a matter of being able to play my content in a comfortable manner, but because there is no other way for me to play it.