I've been hurt before.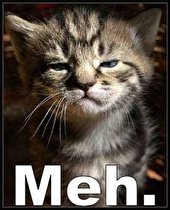 Tomorrow's the Big Day, isn't it? The day we learn all about the Wii U. Pricing, release date, what's in the box, what the launch games will be, what kind of online services we can expect to see upon plugging the thing into the wall, and maybe even some surprise announcements like what Retro's working on. We might also see almost none of that. For Thursday's Big Reveal, I'm keeping my expectation at rock-bottom levels. I don't want to be disappointed; I want to be elated. But, given past experience (especially lately), the best thing for me to do is remain cynical and jaded so that the slightest exceeded expectation gives me reason to celebrate.
It's a little bit sad that that's where we're at, but there's certainly precedent for adopting a "how low can you go" attitude about Nintendo. Remember the 3DS launch? Nintendo said a lot of things that ended up not happening on Day One. Remember how we'd be able to exchange messages with people on our Friends List? I'm fairly certain they didn't mean "with a separate program that we're going to release almost a year later." I think they probably meant send messages in a PSN, XBLA, or even (gasp) Wii-esque way. But that capability clearly wasn't built into the system—otherwise a simple system update would've patched that onto your Friends List. Instead, they had to craft an entirely separate program (Swapnote/Nintendo Letter Box) to make that ability a reality. And it took forever.
The 3DS wasn't capable of going online for two months after its release. Two months. There was no eShop in the beginning—remember? There was no internet browser. Sure, launch games and launch "window" games like SSFIV and Dead or Alive were online-capable, but that was third-party responsibility. Nintendo's first online 3DS game was Mario Kart 7, which came out at the end of the year. All of this means that when the 3DS was launched, Nintendo was basically still working on it. We were all beta testers. Hell, the vast improvement that is the 3DS XL more or less vindicates the critics (like me) who said that the 3DS Taco was not a final product. It's the Nintendo DS all over again.
While some of you may dispute this point, I full well believe that the 3DS' launch library was crappy. Ubisoft went all-in of course, with scaled-down ports of console games. Nintendo's own big pushes were Steel Diver, a sequel to Nintendogs that nobody asked for, and Pilotwings Resort—the only interesting game on the list. But there wasn't a killer app. Ocarina of Time 3D was technically a launch window game, but it still took awhile. Star Fox 64 3D wasn't a launch window game. They probably could've put Super Mario 64 3DS at launch and it would've been a million-seller. If you're releasing a system that caters to N64 ports and also has an analog stick, how do you ignore Super Mario 64? (I'm surprised nobody complained about this before.)
The 3DS' launch does not give me too much hope for the Wii U launch…especially after E3.
If nothing else, E3 was puzzling. Look past the game announcements and new hardware (Wii U 360 Controller), and there was a stunning lack of detail. What, exactly, were the launch games going to be? How exactly would Miiverse work, and would it be across all games? Would it be a system-level thing? How do you access and control it? Will it be there on Day One? Will the Wii U's version of Swapnote be more flexible and intuitive than the 3DS one?
None of those questions were answered. Instead, we got Nintendo Land and a virtual fireworks display. We learned about games we already knew about. The few games that were new—like Project P-100—weren't mentioned in the press conference at all, even though it's exactly the kind of game that Nintendo should've been highlighting. And with four press events (a pre-show Nintendo Direct, the main presser, the 3DS presser, and the developer roundtable), it was pretty clear that Nintendo didn't have a clear direction to follow this year. The real giveaway is that they spent a curious amount of time in each presser bemoaning the fact that they didn't have enough time to really go through the boatload of information they had to give away, but then spent a considerable amount of time in each presser reiterating things we'd already heard in previous events!
Thus we didn't get much information, not really, on the Wii U, which is what tomorrow's Nintendo Direct must be intended for. But I'm not sure Nintendo knows how to play this. They've been keeping this one unusually close to the chest, as they did with the 3DS, and that ended in disaster (for everyone involved). Surely they've learned some things after that botched launch, but E3 suggests they really haven't.
I predict we'll get the launch price and date, what's in the box, and a list of launch-day games. Other games will release during a 3-month "launch window" and a few of those will probably be pushed back. They'll vaguely describe the online services that will be available on Day One, but there won't be a lot. It's already been confirmed that the eShop will be there, but how populated will it be? Will we have access to everything currently on the Wii Shop Channel? I also believe that they will not talk about how your VC and WiiWare games will transfer over. We'll probably have Netflix and Hulu Plus, since those are already on Wii, but YouTube and Amazon Video will have to wait. I'm not sure how Miiverse will play out. At E3, it was a focus, but Nintendo hasn't said anything about it since. I doubt it's ready for prime time.
Call me a cynic, and believe me, I hope I'm wrong, but anything that exceeds these rock bottom expectations will make me very happy. What do you think, dear readers? Am I being too hard on the Big N?