Alex discusses the lack of Animal Crossing on 3DS before coming to a startling realization.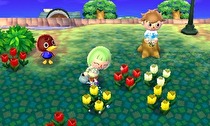 I believe explaining the purpose of this post goes back to E3 2010, when the 3DS was revealed, but more than that, when Animal Crossing and Paper Mario were stealthily announced as eventual releases on the platform.
From then on, we were drip fed information in shoddy trailers recorded and posted to YouTube. In E3 2011, however, we were graced with new 3D trailers for both titles, and they looked excellent, even though we knew there was little hope for 2011 releases.
From then on, we were given even more information, and tons of new details showcasing the fact that Animal Crossing was well in development. Fast-forward to the Nintendo Direct from a couple of months ago, when we saw Animal Crossing get a Japanese title and a release window of this fall.
Now, we're at E3 2012. Nintendo has their huge press conference coming up, and many are predicting a holiday release for Animal Crossing and an early 2013 release for Paper Mario. Moffitt has his three-game showcase at the conference, and states that the 3DS press conference the following day would show off the third-party games in addition to the Paper Mario, Luigi's Mansion, and New Super Mario Bros. already shown. Uh-oh.
After much anticipation, we arrive at the somewhat surprise 3DS software showcase. Luigi's Mansion is shown. Great. Paper Mario is shown and re-confirmed for this year. Amazing. And, with five minutes to the end of the conference, New Super Mario Bros. 2 discussion ceases. NOW is when we finally get our surprise Animal Crossing release date.
We got a big slide of every 3DS game coming out this year. Animal Crossing wasn't on it.
Like many of you, I'm hurt. Fire Emblem: Awakening was accidentally announced, but it still hurt. Fanboyism aside, I did understand. Iwata wanted to space out games and Paper Mario was likely ready to go first. I suppose I can deal with having three or four (if Fire Emblem is this year) real 3DS first-party releases.
We still have an issue.
So far, by the end of 2012, we will have on 3DS:
Super Mario 3D Land
The Legend of Zelda: Ocarina of Time 3D
Star Fox 64 3D
Mario Kart 7
Paper Mario: Sticker Star
Kid Icarus: Uprising
Mario Tennis Open
Luigi's Mansion: Dark Moon
New Super Mario Bros. 2
Fire Emblem: Awakening (maybe)
And we know of these games to exist:
Professor Layton 5

Animal Crossing
Super Smash Bros. 4 (which likely still exists on napkins)
Zelda 3DS (sort of)
And we also have these franchises that we could expect games out of MAYBE:
Mario & Luigi
Kirby
Star Fox
Metroid
Advance Wars
Pokémon (which would be barely in development, if at all. Unless you're thinking Stadium or Snap, that is)
WarioWare
Of course, this isn't the full list of possibilities, but the important thing to consider is that after Animal Crossing, we have no real idea of what Nintendo/subsidiary-developed stuff can actually be released next year. And, if Iwata is carefully spacing out releases by a few months at a time, this could be bad news for a game like Animal Crossing, which has one of the furthest reaches as far as Nintendo franchises go, and is a perfect example of a title Nintendo would want during holiday season.
And, since Pokémon and Smash Bros. are totally out of the equation most likely (as well as Mario & Luigi I'd wager), I don't know if even expecting this game in early 2013 is terribly reasonable. If it releases in October or November in Japan as expected, we likely won't need to wait further than May, but if Animal Crossing gets delayed in Japan, all bets are off.