An EA press event without Nintendo games wound up selling NWR's Director on buying a Kinect.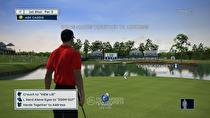 At an EA event last week with little Nintendo relevance, I tried out Tiger Woods on Kinect. To put it simply, I was blown away by it and almost promptly went out and bought a Kinect in preparation.
While I adore the MotionPlus-enabled Tiger Woods games on Wii (R.I.P.), you could still easily game the control scheme. Yes, you had the ability to buckle down with the MotionPlus and mimic a golf swing, but you could still just as easily swing the Wii Remote one-handed. Tiger Woods on Kinect makes you actually practice a legitimate golf swing, and it does it in a smart way.
Instead of lining up like you're hitting the ball into the screen, you line up so you are facing the television. The game reads your swing very well, as far as I could tell. When I metaphorically choked up (your hands are empty, though EA Executive Producer Brent Nielsen said you can hold a golf club if you want to, and he worked on MVP Baseball, so of course he's right!) and shot off my back foot, it reacted realistically. It just worked.
Even the game's menu navigation is way better than other Kinect games. Instead of holding your hand over an icon for five seconds, you just merely move it up and down and swipe to the side to select. The only other game I've played that also does this is Dance Central.
Aiming your shot is a little obtuse at first, but once you grasp it, almost literally, it makes sense. You hold your hand out and make a fist, in effect grabbing the screen, and then you can make subtle adjustments to alter your aim. It was a little wonky at the event, though I'm willing to cut the experience a little bit of slack since busy press events aren't usually the best scenario for camera-based games.
Almost immediately after playing the demo, I texted my brother, an avid golfer and fan of Tiger Woods on Wii, declaring that we had to somehow get this. As I'm the only one who owns an Xbox 360, I knew my task.
Now, I own a Kinect. Let's see if I regret the decision or not.
Also, since I don't get to say this enough, MVP Baseball 2005 is the best baseball game ever. If there is a just sports gaming god, he or she will let EA get the band back together and make a new game using the MLB license.