Nintendo throws another gaming bash, mass crowding ensues.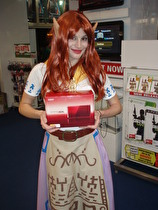 I just got home from another one of Nintendo Australia's increasingly popular launch parties at The Nintendo Experience, situated in the lofty levels of an inner-city EB Games store here in Melbourne.
I am exhausted.
From 10 p.m. until 1 a.m., the store was converted into a Nintendo-themed club to celebrate the simultaneous launch of The Legend of Zelda: Skyward Sword and Super Mario 3D Land. Cosplayers flocked in droves to the store, as well as fans eager to purchase the highly anticipated games.The turnout was incredible, and the upstairs section of the stores was so heavily crowded that movement was often extremely difficult.
Upstairs demo units had Skyward Sword playable for those who hadn't had the chance to experience the games just yet, while downstairs TVs showcased classic Zelda footage. The first few lucky customers who got to the second floor of the store managed to score a showbag with various goodies - however nobody I asked would disclose the contents besides an obviously protruding poster for either of the two launch games. Weird. Once the showbags ran out, the remaining posters were distributed to fans who asked nicely, and 3DS lanyards and Mario pens were given out as consolations to anyone else.
Red-iced Mario cupcakes and green Zelda cupcakes were served to guests along with sandwiches, sausage rolls and other party food. Club music pumped, lights danced on the walls and everyone seemed to enjoy themselves despite unprecedented crowding. There was also a green screen set up in the rear of the Nintendo area where people could get their picture taken and inserted into Mario Land or Hyrule for a free souvenir photo.
Throughout the night there were several trivia sessions to win Mario plush toys and other goodies, and then a gathering of the cosplay entrants for a contest in which the two winners, both lovely lasses in Zelda-themed attire, won a 3DS!
Once midnight struck, people began to pick up their copies of the game and the crowds slowly thinned, eager to get home and sink their teeth into their new games.
Overall, the event seemed to be a huge success. Keep up the good work guys, these parties are awesome! As for me, I'm going to collapse into bed and rest up for my trip to Skyloft come morning.
I'll be uploading the majority of the cosplay photos I took into my long-delayed cosplay gallery soon, keep a look out.