Neal engages in mildly baseless speculation about Project Sora's upcoming 3DS game.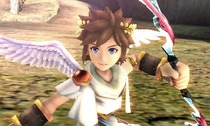 Moments ago, the second Circle Pad was confirmed by a Famitsu scan. It will be used for Monster Hunter 3G, the next portable iteration in the popular series. The Circle Pad looks like it might be tailor-made just for that game. However, it could very well be a mainstay for the system.
As a lefty, the fact that Kid Icarus: Uprising requires the Circle Pad and the stylus to play is an issue. Perhaps this awkward-looking secondary Circle Pad could be used to alleviate that issue. That could also explain why Kid Icarus: Uprising, originally rumored to be a launch title, doesn't have a set release date yet. Currently, the most recent release date was a "2012" from Europe a month after E3 2011, where it was labeled as "Holiday 2011" by Nintendo of America.
Now the idea of it just being delayed isn't out of the realm of possibility. Project Sora's Masahiro Sakurai, known for taking his sweet time making Super Smash Bros. Brawl, seems to have a propensity for game delays.
But maybe just maybe, Kid Icarus: Uprising will make use of the second Circle Pad to provide players with more control options. You could have a left-handed and right-handed touch screen mode, in addition to a dual-stick touch screen-free mode. One of my issues with Kid Icarus: Uprising is the difficulty I had with the controls, so any way to combat that would be welcome in my book.