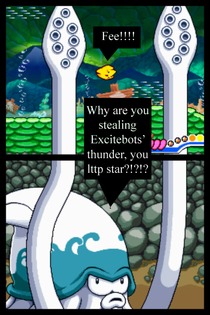 Punch-Out!! had an event at Nintendo World Store and had humorous commercials like the one seen below.
The very recent release of The Legendary Starfy for DS has also been getting commercials that have even reached the impenetrable video game force field of my parents. When I purchased the game yesterday, I showed my mom the case to which she replied, "Oh, I saw the commercials for that."
After talking to her more about it, I found out that apparently these Starfy commercials were playing on television and even being played at movie theaters before movies such as Disney/Pixar's latest UP. I think the last time I saw a Nintendo commercial before a movie was that crazy ass Wind Waker one.
Now the big question out of all this is why Starfy and Punch-Out!! are getting lots of love and games such as Excitebots are getting left in the dust. It seems that whenever Nintendo puts their weight behind a game*, it does well. I guess there is a method to their madness as they're pretty damn successful, but it still makes you wonder why some games get little to no support.
Unless their plan is to not mention Excitebots for an entire year and then get Lisa Kudrow to do a TV spot for it. Then, they'll stealthily release the sequel to the game and not mention it for another year.
I could probably ramble on about Nintendo's confusing marketing strategy for a long time, but hopefully this'll spark some commentary and we can ramble together in the forums.
*Well, maybe it doesn't work all the time, but then again, I don't recall ever having the urge to play Metroid Prime 3 in an airport.