by Daan Koopman - 8:49 pm EST
Total comments: 1 Source: (NCL website)
Marvelous AQL's action game is hopping on the digital bandwagon.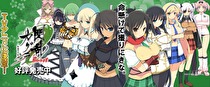 Following the trend of more third-party releases on the Nintendo eShop, Marvelous AQL's Senran Kagura Burst will be available digitally on January 10, 2013, as confirmed by Nintendo's Japanese 3DS website.
The website lists the title at its retail price, which was roughly 6,000 yen. The size of the game is currently unconfirmed.
Read more...