Talking about DQX version 1.2, higher level caps, new character classes, and half off the Wii U version of the game for Wii users.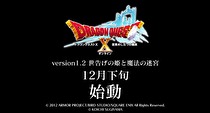 Another surprise Nintendo Direct featuring the Wii version of Dragon Quest X was released early this afternoon in Japan.
The video, hosted by Satoru Iwata and Dragon Quest X producer Yosuke Saito, focused mainly on the upcoming update for the game to version 1.2. Included in the update are new classes, Mahō Senshi (Magic Warrior) and Superstar. The level cap will also be increased from 55 to 60. Another significant addition with the update is Mahō no Meikyū or Magic Labyrinth. Each time players enter the labyrinth, the layout changes. Players can also enjoy the benefits of automatic party matchmaking beforehand for quicker starting times when playing through this dungeon.
Several other options and additions have been implemented, such as new monster combinations (for example, the video shows a monster riding on top of a slime), the start of an in-game lottery, a dress-up shop that allows you to change your character's hair color and design, and the ability to make further cosmetic changes to your in-game house.
Saito also revealed that owners of the Wii version of Dragon Quest X will receive half off (3.490 yen) of the digital Wii U version of the title. Beta testing for the Wii U version of the game will open in February for those who purchased Wii U Premium or Monster Hunter 3 (tri) G HD Ver. Premium sets in Japan. Version 1.2 of the Dragon Quest X for the Wii is scheduled to release later this month while the Wii U version is set to release this coming spring.
You can check out this latest Nintendo Direct in its entirety below!