The Pokémon typing teacher is coming in January for both Australia and New Zealand.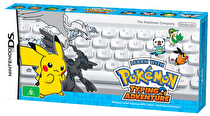 Learn with Pokémon: Typing Adventure for the Nintendo DS will launch in Australia and New Zealand on January 10, 2013.
The player takes on the role of a new member of the Elite Typists Club. The game slowly builds in difficulty as the player attempts to accurately type the names of the Pokémon they come across on their journey to help Professor Quentin Werty and his assistant with their research. The game starts off easy, with early levels only requiring the player to type the first letter of a Pokémon's name.
A special Nintendo Wireless Keyboard featuring the standard English language key layout comes with the game, which can also be used with other Bluetooth-compatible products. The game also comes with a stand that is used to position the Nintendo DS so your hands can freely use the keyboard.