Can you escape a computer? Guide Wario to infinite wealth? You can in this week's Nintendo Downloads!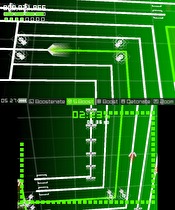 Nintendo is gearing up for your holiday dollars with a healthy smattering of digital releases this week. On top of the New Super Mario Bros. 2 Coin Rush DLC we found out about, you can expect a digital release of Bit. Trip Saga, Mario Tennis Open, Pilotwings Resort, and Pokémon Rumble Blast. And don't forget Wario Land II for the 3DS Virtual Console! It's finally out in America!
As for the 3DS eShop, escapeVektor, Riding Stables 3D, 3D Game Collection, and PIX3D all release today. Over on DSiWare we got Castle Conqueror - Heroes 2, Anonymous Notes Chapter 3 - From The Abyss, and Cake Ninja Xmas. With just a few days before Christmas, feel free to indulge a bit and pick up some digital goodies.
eShop Retail Releases and Demos
Wii U eShop Retail Releases:
Jeopardy!
Wheel of Fortune
3DS eShop Retail Release:
Bit. Trip Saga - $14.99
Mario Tennis Open - $39.99
Pilotwings Resort - $39.99
Pokémon Rumble Blast - $39.99
3DS eShop Demos:
2 Fast 4 Gnomz - Demo Version
3DS eShop Games:
Vektor is a...arrow...thingy...and has been stuck inside a CPU for what seems like all his life. And if the CPU has its say, things are going to stay that way. Take control of Vektor, and guide him/her/it to freedom. Steer Vektor along the paths provided, covering every bit of the route to open up an exit. The CPU will send its cronies after you, protect yourself by leading them right into the CPU's very own traps. Make sure to read Neal's review, he's very keen on it.
Lots of games have provided you with a horse to ride around, The Legend of Zelda chief among them. But how many of them allow you to live the life of a true equestrian? Sure, it packs in all the usual horse care mini-games one would expect (washing, hair brushing, game playing), but it also tackles the real issues in the sport. What would push someone to cheat? Why bother riding a horse when you could just drive anywhere? Answer all these questions and more in Riding Sables 3D, starring 15 protagonists and eleven mini-games in total.
Do you like games? Do you like the stereoscopic third dimension? Think you're ready...for both? Then get ready for Sudoku numbers all up in your face, and mines blowing up in your grill. With 25 games in total, you just may never have the need for a 2D board game again.
PIX3D takes cute spritework and proceeds to blow it up into a mass of tiny colored squares. It's up to you to you to direct the camera around this swarm of dots to find just the right angle that reveals the spritework it once was. Boasting 1,000 stages, there's no concern over a lack of content with this unique puzzler.
3DS Virtual Console:
Wario Land II - $4.99
Before he was out making microgames with his weirdo friends, Wario had to build his empire. No matter the cost, he had to own every last golden coin and bejeweled doodad just so he could get up in the morning. In 1998, Captain Syrup and the Black Sugar Gang stole what was not-so-rightfully is. Not only that, but they flooded his house and turned on his annoying alarm clock. Wario needed to get his treasure back. But how? Any means necessary, of course. Becoming invincible was his plan, and he set out to solve puzzles by allowing the enemy to change his physical appearance. Sounds weird, but it works.
DSiWare Games:
Castle Conqueror- Heroes 2 - $4.99/ 200 Points
Relive "history" in this turn-based strategy title. Two years ago, a war occurred, one that ended when the planet's citizens fought back against their oppressors. Told through 11 chapters, players take part in this harrowing tale of little pixel-y guys against other pixel-y guys. The developers made a conscious decision to keep away from realistic visuals so to not scare its players for life. Can love bloom on the battlefield? Not when it's this violent.
Anonymous Notes Chapter 3 - From the Abyss - $1.99 / 200 Points
From the abyss, anonymous notes, man, this sure sounds pretty mysterious doesn't it? Well, I've done some researching, and I've come up with some details. Turns out, it's an action RPG, and one that takes place within a randomly generated dungeon. I've spoken to a source, who wishes to remain anonymous (cute, huh?), and they told me there's a "soul capture" feature, that allows you to take away an enemy's magic and weapons. But you didn't hear it from me.
Sure, you could just take a snowball to the face, then grin and bare the freezing cold pain. Or, you could slice right through it and show the world who's boss. And wouldn't you know it, that's just what you do in Cake Ninja: XMAS. The official site shows an ability to post high scores you achieve in the game to the site's leaderboard, all in the hopes of coming out on top and winning a Wii U.
WiiWare Games:
Vampire Crystals - 1000 Points
Creepyland is a pretty messed up place. Here, zombies and vampires live in harmony; the zombies eat old vampires that want to die, and vampire drink the blood of zombies (which they apparently encourage). But things have gone awry, and it's your job as a vampire to put the walking dead back in their rightful place...six feet under! From an overhead view, steer you vampire protagonist across the Creepyland landscapes, and shoot anything that dares to move. If you're interested, a free demo is available.