Clear your path with the power of paint.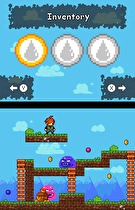 The next DSiWare title from Goodbye Galaxy Games has been announced, a colorful puzzle-platformer named Color Commando!. The game's creator, Hugo Smits, previously developed Flipper 1 and 2, and Ace Mathician for the DSiWare service. Color Commando! is scheduled to arrive in early 2013.
Spread across five worlds, each composed of four levels and one bonus, Color Commando! presents players with a small landscape littered with paint blobs and enemies. The paint blobs are color coded to the enemies (for example, a purple blob will affect a purple enemy). By placing a paint blob in the enemy's path, the enemy will be absorbed and will no longer present a threat. Once resolved, the player can grab hold of the treasure within the level.
To learn more about Hugo Smits and his design philosophy, you can read our interview here.