Another day, another dungeon to conquer.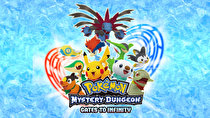 The newest installment of the Pokémon Mystery Dungeon series, Gates to Infinity, will be released in North America on March 24, 2013. This will be the series' first fully 3D game.
Players take on the appearance and abilities of one of five Pokémon: Pikachu, Snivy, Oshawott, Tepig, or Axew. The game features 20 constantly changing dungeons that players can navigate and battle their way through.
Pokémon Mystery Dungeon: Gates to Infinity will be released both at retail and through the Nintendo 3DS eShop.