Get three 3DS eShop classics for a reduced price!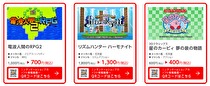 Nintendo will slash the price of three selected digital games on the Nintendo 3DS, the company announced on its website.
The games in question are Denpa Ningen RPG 2, Rhythm Hunter: Harmo Knight, and 3D Classics: Kirby's Adventure. The sale will run from 10:00 JST on January 1 until 13:59 JST on January 6.
3D Classics: Kirby's Adventure is available worldwide, while Denpa Ningen RPG 2 and HarmoKnight are schedule for international release in the future.