Interesting things are afoot in the world of the Pocket Monsters!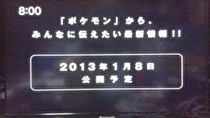 According to information released on Japanese television, we might see some exciting Pokémon news on January 8, 2013. This information was brought to the world by the folks over at Serebii.net.
At the end of a trailer for Pokémon Black 2 and White 2, a teaser image confirmed a big announcement, though we aren't sure what will pop up. This could be anything related to already released products, to entirely new ones all together.
As soon as we hear more on the subject, we will be sure to let you know.