There were two of them. Which was better?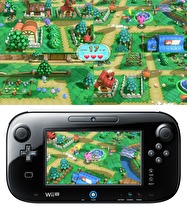 Animal Crossing: Sweet Day

Animal Crossing: Sweet Day is very reminiscent of last year's Pac-Man Vs. clone Chase Mii. The goal of the ghosts, portrayed as cutesy Animal Crossing characters, in this game is to collect 50 pieces of candy, which they keep in their head. There's a nice risk/reward to keeping the candy, though, since it slows you down. The Pac-Man role is played by one player controlling two guards, one with each analog stick on the GamePad. This game was the most addictive Nintendo Land game out there, and should prove to make a great multiplayer experience this holiday.
Honorable Mentions:
Luigi's Ghost Mansion: Sometimes, even if you're fun, you will still play second fiddle, and Luigi's Ghost Mansion fits that bill. The Pac-Man character in the game is a ghost who can't be seen by the other players. The ghost's goal is to avoid the other characters flashlights while trying to capture all of them. The other characters, who are regular ghostbusters, have a battery-powered flashlight as their only weapon.