Nintendo's showing might have been light, but what they showed was awesome.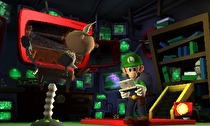 Publisher: Nintendo
Developer: Next Level Games
Release Date: Holiday 2012

Mario's brother is back and he is in for quite a scare in Luigi's Mansion: Dark Moon. The amount of content in the demo was rather impressive, as Luigi once again made use of the Poltergust to suck up ghosts, curtains, and coins. It will be a blast to stumble upon all of Luigi's Mansion's secrets as it is scheduled to release later this year, both at retail and digitally.
Honorable Mentions:
New Super Mario Bros. 2 (Nintendo): While divisive among those who played it, this 3DS game introduces a new angle to the series with a focus on collecting coins, creating an interesting new high score mechanic that could be very entertaining if they flesh it out enough.

Paper Mario Sticker Star (Nintendo): The newest Paper Mario game wasn't playable, but from what we saw, it looks to be the shot in the arm the franchise needs. Stickers play a heavy role in battles and puzzles, and the entire RPG mechanic seems fresh for the first time since the series began.

Epic Mickey: Power of Illusion (Disney/Dreamrift): Dreamrift's side-scrolling Mickey game looks great in action, and the clever use of the Disney license and the paint/thinner gameplay might make the 3DS game the better of the two new Epic Mickey games.