Ubisoft seems to be ahead of the curve with GamePad concepts.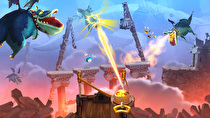 Publisher: Ubisoft
Developer: Ubisoft
Release Date: Wii U Launch Window

Rayman Legends succeeded where New Super Mario Bros. U didn't. It made the GamePad interactions compelling. To succeed through the challenging platforming, you had to cooperate and work together with the other player. It's a great example of Nintendo's hopefully for multiplayer on the Wii U, and in our eyes, it was the best use of the GamePad at E3 2012.
Honorable Mentions:
ZombiU (Ubisoft): Using the GamePad as your zombie survival kit is a neat hook. Factor in the GamePad vs. Pro Controller multiplayer, and ZombiU is looking to be a great example of how to use the GamePad in a first-person shooter.

Nintendo Land (Nintendo): Whether it was the single-player or multiplayer games, Nintendo Land seems to be a textbook on how to use the GamePad in fun, exciting ways.