Which of the five Nintendo Lands game was the best?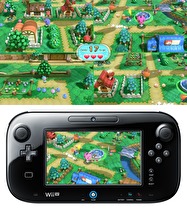 Animal Crossing: Sweet Day

Of the five Nintendo Land game, the one that was the most compelling to come back to was Animal Crossing: Sweet Day. The depth and strategy involved in outsmarting the guards was outstanding. Communication between players is rarely utilized, but Animal Crossing: Sweet Day makes this element of gameplay instrumentally important. When you bring friends over to show them the Wii U, this is bound to be the one game you will definitely want to show them.
Honorable Mentions:
Donkey Kong Crash Course: A single-player experience that is much harder than it looks, DK Crash Course is quite the deceptive platformer. At first glance you find yourself wanting to just tilt left and right to finish the course. However, there is a needed finesse to move forward at all. It was likely the hardest of the Nintendo Land Games, and quite possibly the most addictive.