There isn't much, but we're still excited for a few Wii games.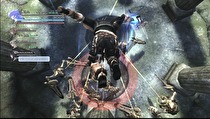 Publisher: XSEED
Developer: Mistwalker
Release Date: Summer 2012

While The Last Story is already out in other regions, XSEED is still working on bringing it out to North America this summer. What we saw looked great, and the final wait for the game for us North Americans should prove to be somewhat unbearable.
Honorable Mentions:
Skylanders Giants (Activision/Toys for Bob): The latest game looks to be more of the same, but when more of the same adds 20 new unique playable characters and vibrant new worlds with hidden areas, I don't think anyone can complain.