It took a legend to stand out among the third-party games.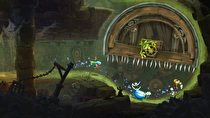 Publisher: Ubisoft
Developer: Ubisoft
Release Date: Wii U Launch Window

While we saw only a short slice of the gameplay, focused on the interaction between the GamePad and Rayman, what we saw was wonderful. It's similar to Rayman Origins, but now it's in HD on a Nintendo system with a brand new character and the promise of more zaniness on the way.
Honorable Mentions:
ZombiU (Ubisoft): Ubisoft's dark zombie game seems to do some interesting things, such as one bite and you're a zombie. If the game lives up to its promise, then we won't be calling it Red Steel 2.0 this fall.