We've been waiting since 2004 was a new game in this series. The wait might have been worth it.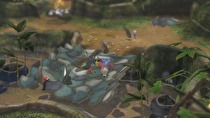 Publisher: Nintendo
Developer: Nintendo
Release Date: Wii U Launch Window
Eight years after the last entry in the series, Nintendo finally got around to showing off Pikmin 3, and it appears to be just as good as it ever was. Sporting gorgeous HD visuals and a new type of Pikmin, what we saw of the game at the show played a lot like the previous games, and that is in no way a bad thing. Taking down bulborbs and collecting treasure with your army of tiny plant men will be back to Nintendo consoles in the Wii U launch window.
Honorable Mentions:
New Super Mario Bros. U (Nintendo): The beautiful backgrounds and new power-ups of New Super Mario Bros. U were pretty cool as well. The Flying Squirrel suit brings back memories of the cape from Super Mario World, sort of.

Project P-100 (Nintendo/Platinum Games): One of the few shocks of E3, Project P-100 is a zany "mass superhero action game" from Platinum Games and Hideki Kamiya with Viewitful Joe-esque humor and personality and peculiar Pikmin-like gameplay.