Using muskets to slaughter redcoats looks pretty awesome.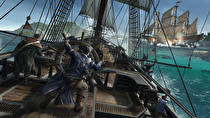 Publisher: Ubisoft
Developer: Ubisoft
Release Date: Wii U Launch

Assassin's Creed is finally coming to Nintendo systems and we're all pretty excited, whether we've played it on other systems or have never touched the series before. The setting helps, as the American Revolution is an untapped venue. The game looks great on Wii U, and while we didn't get to play it, some of us watched a Ubisoft rep play it as we salivated over the potential of the GamePad.
Honorable Mentions:
Darksiders II (THQ/Vigil): A gorgeous, sprawling world; a post-apocalyptic story; incredible art direction; AND loot? Call me crazy, but Darksiders 2 looks to best its predecessor in every possible way. It even features Lilith, Queen of the Succubi. You know, in case you were wondering.