Neal starts off his look back at Rare's Nintendo 64 output with Killer Instinct Gold.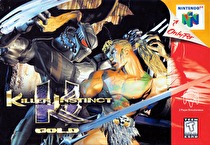 While Killer Instinct is currently carving a new legacy on Xbox One, the Rare-made fighting series first started 20 years ago as a Nintendo 64 project. First debuting in arcades and then Super Nintendo and Game Boy, Killer Instinct was essentially Nintendo's version of Mortal Kombat. It was wildly successful on Super Nintendo, which led to a sequel that wound up making its way to Nintendo 64 in late 1996.
Killer Instinct Gold, the first N64 game from the prolific British developer, launched on November 25, 1996 in North America. The sequel, based off the arcade version of Killer Instinct 2, upgraded the series with more modes, including a super helpful training mode. It didn't meet the sales success of the Super Nintendo predecessor, and the series fizzled out shortly after aside from a false start in the late '90s.
We dive into Killer Instinct Gold in the first of our Rare 64 video series, where we look back at the output of Nintendo's premier second-party developer at the time. Check the video below for even more information about the 1996 fighter.
Up next? Blast Corps.