Remove us from the shackles of the search engine optimization god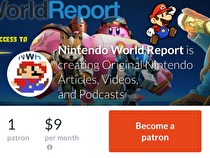 After 17 years, we've finally sold out - to you.
Starting today, Nintendo World Report has launched crowdfunding through Patreon. For as little as $1 a month, you can see exclusive Nintendo World Report content, as well as have influence on the site at higher tiers.
Depending on your generosity, we may be able to produce exclusive podcasts, bring back classic NWR content such as Patreon-backed developer interviews and magazines, and even eliminate all advertising from the website.
Thank you so much for your support, and let's make Nintendo World Report better than it's ever been!
Click here to access our Patreon page.