The on-again, off-again relationship may be on again.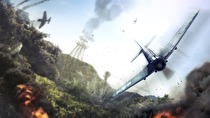 Nintendo of America might be publishing Devil's Third in North America according to sources close to the company. The reason being? The fan outcry over Nintendo's American branch passing on the Wii U exclusive has Nintendo of America scrambling to save face.
When last we heard about Devil's Third, Nintendo of America wasn't planning to bring the game to America at all. Instead, they were going to rely on a third-party company to bring it to the region. That third-party company was, according to numerous sources, reportedly going to be Xseed, who also published The Last Story and Pandora's Tower in North America.
However, when the news of Nintendo of America passing on Devil's Third hit social media, everything exploded. The large outcry reached Nintendo of America and the company issued a brief Twitter statement confirming news on Devil's Third is on the way. Similar language was used when The Last Story was revealed to be published by Xseed in a Nintendo Direct, the most recent rumblings suggest that Nintendo of America might be publishing Devil's Third now because the company doesn't want it to seem like they don't support their own products.
We hope to have gameplay impressions of Devil's Third, as well as confirmation of the title's North American fate, very soon and will keep you updated as we are able to confirm more information.