by Donald Theriault - 4:15 pm PDT
Total comments: 3 Source: Sega
And a physical release that actually includes a Switch card, hallelujah.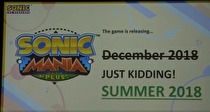 Sonic Mania will be getting an expansion this summer, with new friends and a new format.
Announced at the South by Southwest festival in Austin, the expansion will add new stages, modes, and two new playable characters. Mighty the Armadillo and Ray the Flying Squirrel, a duo who have appeared in... Read more...