No word on the end of the sudden JRPG obsession with atomic bombs.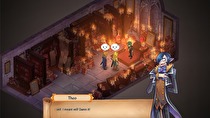 A modern take on the JRPG will be available in a couple of weeks.
Publisher Crunching Koalas have confirmed that Regalia: Of Man and Monarchs - Royal Edition will be available for the Switch on April 12 for US$24.99. Originally, the game was tabbed for a Q1 release date.
A modern take on the JRPG, Regalia is a 40-50 hour long JRPG, and the Switch edition will have new characters and content in its "Royal Edition".