by Aaron Kaluszka - 10:02 P.M.
Source: http://www.freepatentsonline.com/y2012/0135803.html
Total Comments: 13
The gaming applications will shock you.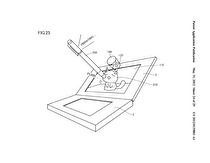 Nintendo's latest patent application includes a number of 3DS game enhancements designed around improving the virtual reality potential of the system. Both the camera and stylus undergo significant enhancement.
The patent application describes ways in which players could interact with the 3DS's stereoscopic 3D images directly. Using a stylus, players could virtually touch objects that appear to be floating in 3D space. A stylus with a "marker" attached to the tip would allow the camera to keep track of its position. This marker could be a fluorescent color or an infrared light, functioning like the glowing orb in the PlayStation Move wand.
Read more...