The title is landing in North America by the end of 2012.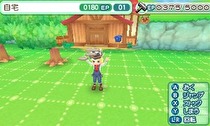 Harvest Moon: A New Beginning will be coming to 3DS in North America by the end of 2012, as reported by a recent press release from Natsume.
The focus of A New Beginning lies in customization; for the first time in series history, players can customize their appearance as well as their farm. Outfits, facial expression, gender, skin color, hairstyle, and more can be customized.
The upcoming title marks the 15th anniversary of the Harvest Moon series in North America, as well as a general celebration of the series by Natsume throughout E3 and the rest of the year.
This game came out in Japan in February 2012.