Now if only they'd bring that video back up on YouTube.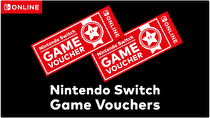 After a brief hiccup on Monday, North America can once again partake in the Nintendo Switch Online voucher program.
They can be purchased on the Switch natively via the "Nintendo Switch Online" option, or on the web here for US accounts or here for Canadian accounts: the prices are US$99.98 and C$132.99, the same prices as the original round of vouchers in 2019.
First party titles past and present are available, as well as being able to use them for preorders of Kirby's Return to Dream Land Deluxe and Bayonetta Origins - the only two first party games available for digital preorder as of today (February 1).