Wait, there's MORE?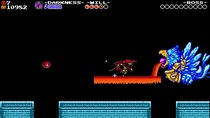 In addition to a new game, Yacht Club Games also confirmed new additions to Shovel Knight: Treasure Trove.
Accessibility options are front and center: options will be added to independently set the intensity of screen flashes and screen shaking. King of Cards will also feature additional options for colorblind players. Shovel of Hope will be adding an option for gender-neutral pronouns (they/them) on top of the he/him and she/her setting.
The new Knight amiibo 3-pack will unlock costumes for Specter, Plague, and King Knight in Shovel Knight Showdown (cosmetic only), new challenges, and fairies that give new powers in each of the four adventures.
New cheat codes will be added, including a wavy screen effect reminisicent of the infamous Yoshi's Island level "Touch Fuzzy, Get Dizzy". Feats in the original "Shovel of Hope" will now unlock in co-op, Plague of Shadows adds a quick select for alchemy, and Specter of Torment will add more platforming challenges.
The expanded Treasure Trove will release in December.