No release date for the latest game from the folks who brought you Muse Dash.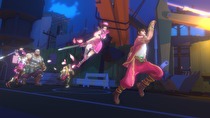 The follow up to Muse Dash has been announced with a to-be-determined Switch release.
Roguelike Hero is an action title that takes inspiration from the comedy of Stephen Chow. Each area is a randomly generated movie set, and starting as an extra the goal is to become a star through increasingly bizarre actions.
No release date has been given for the game.